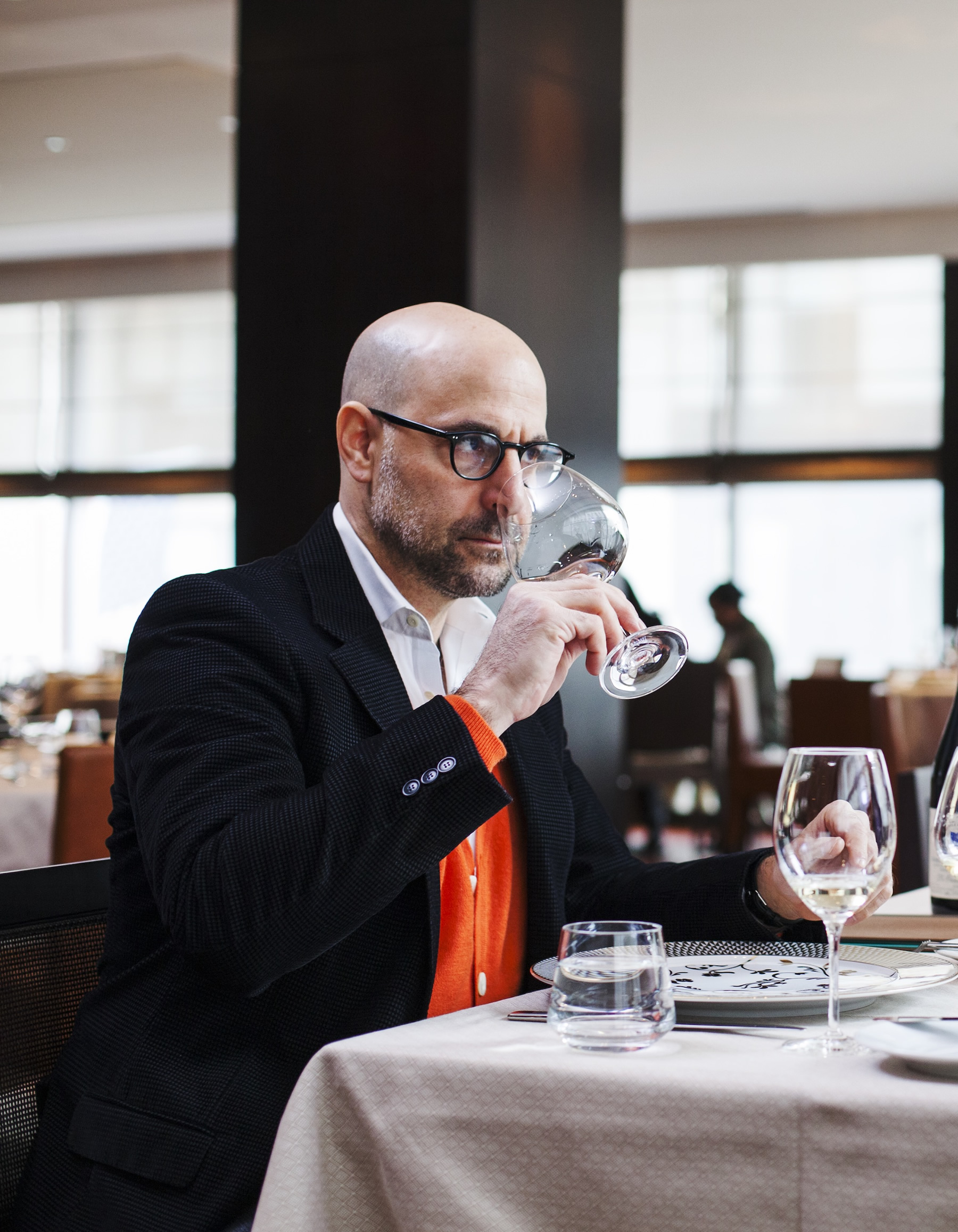 Stanley Tucci grew up in a loving Italian family where he was taught vital life lessons at the dinner table. Sitting down for a sprawling family meal together was the occasion for a joyous mix of cuisine and conversation. This was also how the talented actor developed an abiding passion for food and a deep appreciation for how wine could enhance the overall experience of dining. While his mother Joan would come up with one variation after another on classic Italian 'old country' dishes, his father was constantly trying out new wines as well as producing his own private vintage in the basement of their New York home.

The Tucci family's love for food and wine has always informed Stanley's perspective on both his personal and professional life. He hosted a television series called Vine Talk, which he developed with long-time actor friend Steve Buscemi, and has also published two cookbooks. The Tucci Cookbook, published in 2012, combines Northern and Southern Italian dishes from both sides of his family, and includes wine pairings as well as interesting variations on classic Italian cucina.
In 2009 Tucci's first wife Kate, with whom he has three children, died tragically of breast cancer. In July, 2010, while attending good friend and Devil Wears Prada co-star Emily Blunt's wedding to John Krasinski at George Clooney's villa in Lake Como, Italy, he met her sister, Felicity Blunt. The pair were married in 2012 and their shared love of gastronomy resulted in the publication of the cookbook, The Tucci Table, in 2014. They also welcomed the birth of their first son, Matteo, in January, 2015.
There's something to his precise manner and underlying sensitivity that has endeared us to his work over the course of a stellar movie career. Some of his most notable films include The Terminal, The Devil Wears Prada, Margin Call, the Lovely Bones, for which he received a best supporting actor Oscar nomination, as well as the 2016 Best Picture winner Spotlight.
Your family has always had a strong association with wine, can you tell us more about that?
My father had a great wine press in his basement and he had two big old oak barrels and would make wine every year. We would drink it out of little juice glasses and he would always put the wine in a bottle that must have dated back to the 1920s and he would use it over and over again and put it on the dinner table.
You talk often about the incredible family gatherings you experienced as a child, how do you evoke those feelings as an adult?
I grew up in a culture where eating was a family event and dinner was an especially important daily event. The dinner table was a place where people could relax and talk about what's on their mind and everyone could share all the good or interesting things that happened to them on that day... Every time I open a bottle of wine and prepare a meal, I'm often overcome by the spirit of all those extraordinary family dinners.
Your 1996 film Big Night, [about two Italian brothers (played by Tucci and Tony Shalhoub) running a restaurant which Tucci both wrote and directed] is often described by critics as the best movie ever made about food and running a restaurant, was the film inspired by your own family?
It always seemed to me that running a restaurant is kind of accidentally poetic. I don't have a brother or anyone in my family who worked in the restaurant business, but that idea of expressing love through food has been and is an important one in my life.
My whole life was about food. My parents were incredible cooks. My grandmother, and my mother, used to make these little potato croquettes. A little potato and maybe some breadcrumbs, parsley, garlic, and onion: absolutely delicious, and delicate. My mother also made paella, and to this day, it's the best paella I've ever had. Amazing.
You insist that you are not a 'wine expert', but in 2011 you hosted the PBS show Vine Talk, [the program saw Tucci assemble a motley crew of his fellow Hollywood wine lovers to gather around a table and philosophise about wine, food, and the art of living] surely that makes you more than simply an amateur oenophile?
The series was not necessarily about expertise but more about sharing my love of wine with an audience. Just about anyone can come together, enjoy almost any type of wine, and engage in compelling conversation – and even pick up good basic wine education in the process. Like the different wine making methods and the main characteristics of wine aging.
Your family originates from Calabria, tell us about your favorite Italian wines?
I love Super Tuscans and wines from Sardinia. Generally, it's not all about fine wines, you usually can't go wrong with Chianti, and I enjoy California Chardonnays and French Burgundies.
You credit your grandmother, Concetta Tropiano, for your cooking skills and have preserved her legacy in your cookbooks. What are your favorite dishes?
I love to experiment with wine pairings to go along with my favorite Italian rustic dishes; like branzino sea bass roasted with thyme, garlic and rosemary, rabbit stuffed with fennel, prosciutto and salami, or uova fra diavolo (eggs poached in marinara sauce) which my father used to make every Friday night for dinner. It's one of those grand simple dishes you can enjoy equally as breakfast, lunch, or dinner. My favorite ingredients are basic: eggs, rice and wine. Eggs are protein, rice is starch – and wine goes perfectly with both.
Do you often get a chance to cook at home?
Constantly – when I'm home. I don't really have a chance to cook when I'm away, but when I'm home I cook every night. When I go to my parents' house I'm able to cook with my mum, which is really great. Food brings a great sensuality to life. It's creative, but it's also edible. I like that.
Given that food and wine play such a big part in your life, what would be your last meal on Earth?
I'd have tagliolini with white truffles, and risotto with shrimps – a dish I had on my honeymoon. I had the risotto in Venice a very long time ago and it is definitely one of the best dishes I've ever tasted. For the main it would have to be a whole branzino, a simple sea bass dish. Also a Florentine steak with my mother's own recipe for broad bean minestra. My grandma made a delicious minestra with potato and zucchini – so hearty and fresh. All of these are simple recipes, but they're the essence of Italian cooking.
Did food play a part in the seduction of your wife Felicity?
I spit-roasted a twenty-six pound suckling pig for her... Unlike most guys, I like making really complicated dishes. You have a few glasses of wine. You really get into the process. You have so much fun, you just don't want it to stop. Risotto is another great seduction dish – it takes care and attention to detail and you get the chance to show the lady that you're good with your hands.
I didn't expect to fall in love so soon after my wife's death, and also not with someone so much younger (Felicity is twenty years his junior)... But after spending a few minutes with her, I asked her to have lunch with me the next day.
What do you think it is about food and wine that makes it so important to you?
Food is comfort and it's meant to be shared with other people. You remember food and wine throughout time because of the people you were with. Before my wife died, we were skiing, and then we went out to lunch. The meal was nothing special, but it was the best bottle of wine I ever had in my life. And it was about that time, that place, and that person.
Words – Richard Aldhous
Photography – Cedric Angeles