Places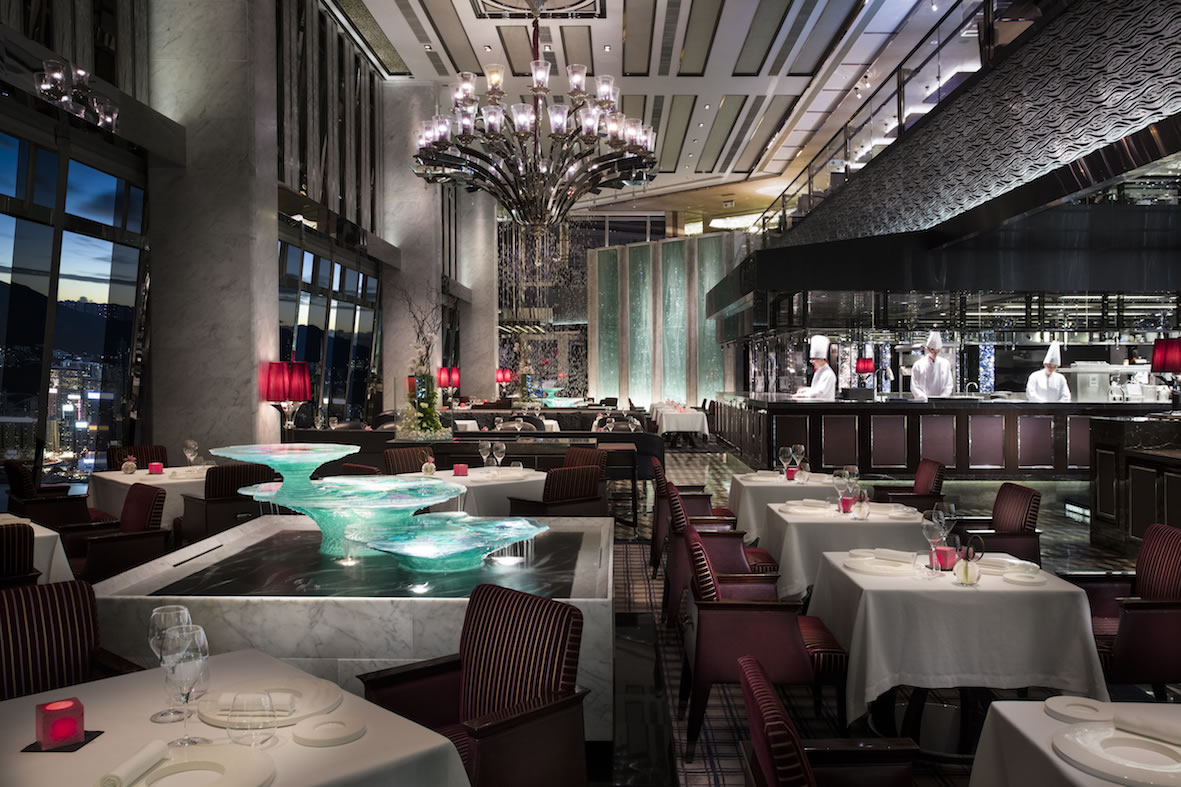 Places

Hits: 5227
Wine Places
"I can't stand people who do not take food seriously," Oscar Wilde famously said. In Germany as in Italy, but also in China and, more specifically, on the 103th floor of the Ritz Carlton Hotel in Hong Kong, it is all about the pleasures of fine dining. Charming and welcoming settings offering a chance to explore new flavours in that special convivial atmosphere that only food, tantalisingly paired with wine, can create.
Tosca
Hong Kong, Cina
www.ritzcarlton.com/en/hotels/china/hong-kong/dining
We are on the 102nd floor of Ritz Carlton, the tallest hotel in Hong Kong. This is the home of Tosca, an exclusive Italian restaurant led by executive chef Pino Lavarra. Tosca, like the famous opera: "We have an open kitchen," Lavarra explains, "it stretches out into the restaurant like a stage, and you can watch the show from your table, as if you were sitting in the stalls. It's just like a theater where the food is the real protagonist." Born in Puglia, Lavarra trained on the Amalfi coast and relocated to Hong Kong three years ago. He is positive, "This is the real deal: here you can truly enjoy the 'Italian way', not only with regards to food and wine, but as an all-round fine dining experience."
The 'Italian-way' isn't just about old clichés such as pasta, pizza and penne arrabbiata. Lavarri's cuisine privileges excellent ingredients, finding its true expression in signature dishes such as the Sea Tiramisù: a Mazara prawn carpaccio, topped with a cereal crumble and a mussel and clam foam. "On the outside, it looks like a tiramisù, but the heart of this rich Italian dish is in its explosive bouquet of sea flavors. Excellent Italian ingredients are crucial to my cooking," Lavarri continues, "they are the very foundation of my cuisine."
The elegant wine list at Tosca offers the perfect counterpart to the food menu, exalting the taste of every dish. Lavarra works closely with a team of sommeliers to discover the right balance, the perfect union between food and wine. "Sometimes we end up changing a dish to better pair it to the sapidity of the wine. If an ingredient doesn't suit the wine we have in mind, we find an alternative, or temper its taste, in order to achieve the perfect harmony."
Ristorante Pacifico
Milano, Italia
A friendship and a passion for Peru's cuisine. This is how, a year ago, Pacifico was created: a restaurant with the goal of innovating foodservice in Milan. There are three masterminds behind the project: Guillaume Desforges, Jacopo and Leonardo Signani. "My brother and I…" says Leonardo, "…had a Peruvian nanny who used to prepare us ceviche since when we were little. Guillaume, instead, has a Peruvian fiancée and he has quickly become passionate about this type of cuisine. This is why we all had a common wish: make the dishes that we adore known to the city." The project is already destined to expand: "We'd like to open new restaurants in Italy and abroad. We are aiming for New York, Paris, and Rome and there's also the possibility of Los Angeles," says Jacopo. For the moment, Milan is already a big success: a Peru-based magazine, six months after the restaurant's opening, declared Pacifico the best restaurant in the world beyond Peru. "If you can anticipate the wishes of others, while meeting your own, you're able to innovate. And we have created this restaurant because it is the type of place where we would have loved to hang out," explains Guillaume. This is a New York-inspired restaurant, as Jacopo loves to define it: "This restaurant exalts Peruvian cuisine thanks to the skills and experience of the Chef Jaime Pesaque, but it is also a place filled with music that gets truly lively in the evening." Here, Peruvian tradition adapts to its Italian setting and the Italian wines that, as Guillaume explains, "represent the connection between Peru and our land. When we decided to create this place, I immediately thought about the strength of the Santa Margherita wine for pairing certain white wines with some of the fish dishes. The Asian salmon ceviche, for example, is literally exalted by Pinot Grigio.
Vinoteca San Felice
Karlsruhe, Germania
www.sanfelice-restaurant.de/vinoteca
Enzo Gallicchio has been managing Vinoteca San Felice, in Karlsruhe, for over thirty years. Born in Calabria, he moved to Germany to pursue his great passion for wine and fulfil his ambition of opening his very own wine bar. "For me, wine is life," he confesses. "My customers trust me completely. That's why it's so important that I immediately establish a strong relationship with them. If I know what kind of person I'm dealing with, then I can pick the right wine for them." Gallicchio's skill is above all his capacity to spark an emotional bond with the customer – the ability to understand their taste and personality.
The food menu at Vinoteca San Felice offers a wide and excellent selection, from truffle white pizza to steak and tortellini. "I usually pair a Barbera or a Nebbiolo with red meat, while my go-to white wine is Ca' del Bosco – a perfect wine to be served alongside fish, or a starter, but also a good bet for pasta and veal meat." The most popular dishes at Vinoteca have been on the menu since the start and are customer favourites to this day. For example, catfish with spumante and black truffle, or Parma ham-stuffed fagottini with mozzarella and a white wine reduction.
"Seeking out the best ingredients matters, but you also need to know how to use them," Gallicchio points out. "A good chef needs to be able to cook all kinds of dishes – otherwise, all dishes end up tasting the same."
Caffé della Posta
Courmayeur, Italia
Since 1911 the Caffè della Posta has been a landmark in the small town of Courmayeur, thanks to its proximity to the post office, which made it a favorite meeting place for the local community. Since 2005 Biagio Costantino has taken charge of the venue. "I first came to Courmayeur on a holiday 30 years ago," he explains. Born in Salento, he fell in love with the Aosta valley to the point that he decided to relocate up north. He first worked at the Caffè della Posta as a simple barman, buying the premises when they went up for sale. "Here, people can truly feel at home. I have developed a very close relationship with all my clients. Those coming to Coumayeur for the first time can sense the familiar vibe when they step into the Caffè, and often come back many times during their holidays." The hospitable nature of his establishment is reflected in its interior decor: the warm and relaxing environment of Caffè della Posta retains most of its original features – from the fireplace, to the stove and the 17th century furnishings. "The most exciting new addition" Costantino reveals, "is our wine bar. Here customers can pick and choose their favorite wine by the glass. I was determined to have an area reserved for wine, because I think it offers customers a moment of pure relax." This sums up the whole ethos at Caffè della Posta: nothing matches a peaceful break, an aperitivo made up of simple ingredients, while letting this family-run establishment look after us, as if we were family ourselves.
Ristorante Da Franco
Stoccarda, Germania
Ristorante Da Franco believes that the key to choosing the best fresh produce is in the natural cycle of seasons: this notion has been guiding this restaurant's excellent food and wine selection for over 50 years. Angelo Annunziata was born in the Naples region, and moved to Stuttgart fifty-six years ago, with the dream of bringing Italian cooking to the German table.
He certainly succeeded in his mission: today, at 76, he is still firmly at the helm of his now-legendary restaurant. He runs the table service, while his wife cooks all the dishes in the kitchen. The Ristorante is a real family affair; it even takes its name from the owners' son, Franco, who was born around the same time the couple launched their business.
Da Franco appeals to an international clientele: "My customers," says Annunziata, "are used to traveling; they know all types of cuisines and enjoy Italian cooking very much. When they come here, they can fall in love with a simple plate of tomato sauce spaghetti, when it's prepared with the right ingredients."
Ristorante Da Franco's cuisine is inspired by the typical dishes of the Italian regional tradition: from Sicily to Piedmont, without forgetting Campania. "I love to change my menu," continues Annunziata, "from pasta to fish to vegetables. Above all I make sure I use seasonal ingredients. When it's truffle season, for instance, truffle becomes the real protagonist of many of my dishes." For each seasonal dish, there is a seasonal wine: "The people of Stuttgart love Italian wines, and I won't serve a dish unless it's paired with the perfect glass. My wife's clam spaghetti, for example, are just something else when they come with a glass of Franciacorta on the side."
Testo – Marianna Masciandaro