Places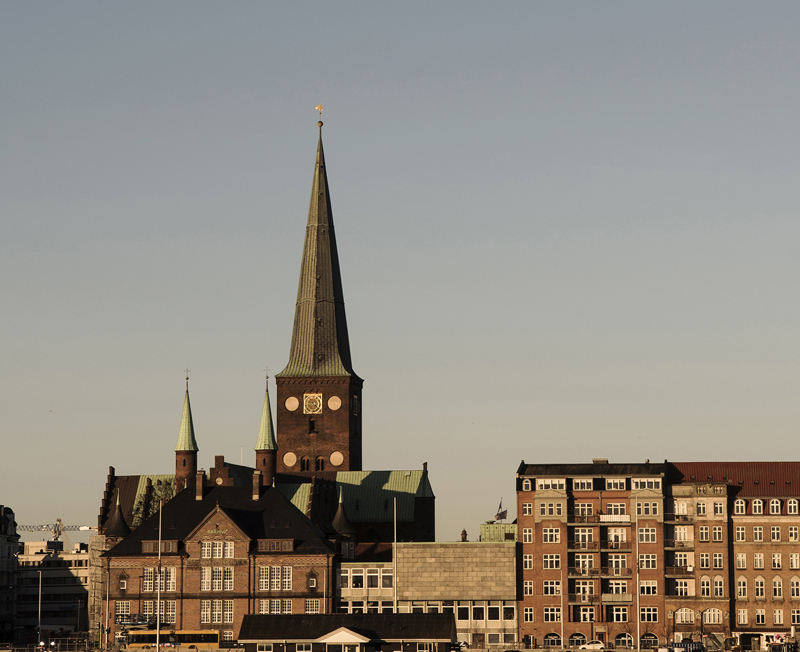 Places

Hits: 4535
Lens on Aarhus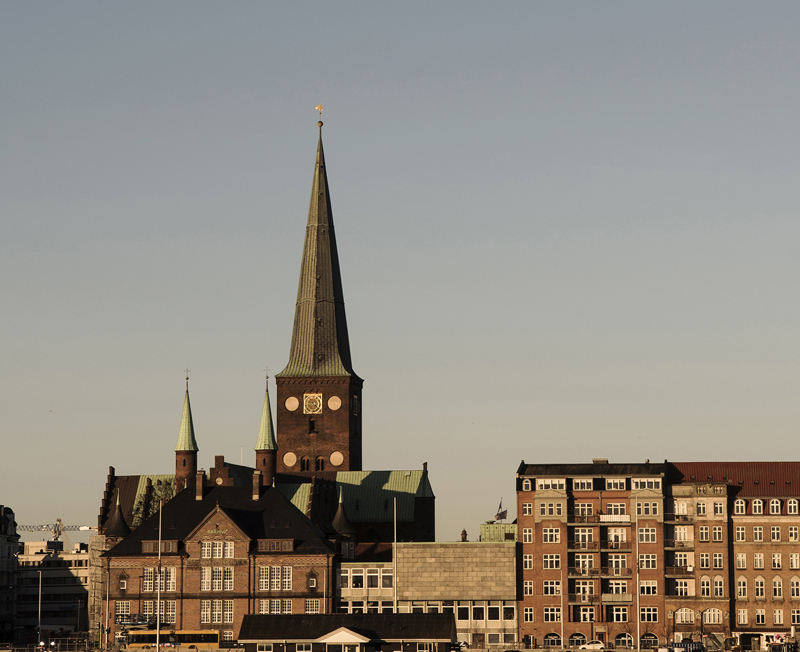 The streets of Aarhus are literally in the "here and now". Across Denmark's second-largest city today, you can spot paving stones that bear the slogan "Aarhus 2017"– a reminder of its status as this year's European Capital of Culture. Not that anyone needs reminding of course. Aarhus has quickly become one of Europe's hottest destinations – an alternative to the cool capital, Copenhagen, and for good reason. Aarhus seems to have it all;
cobbled streets and cathedral spires, cutting-edge architecture and dazzling design, world-class museums and first-rate restaurants – including three with a Michelin star. No wonder they call it the City of Smiles. Many visitors arrive in Aarhus by train (for such a small city its airport lies strangely far away), but the railway station provides a useful compass point for exploring the city – which, I discovered, is easily done on foot. Aarhus is a compact city – and much smaller than Copenhagen – so much so that even the tourist board notes that "When we say walking distance, we really mean walking distance." Hence Aarhus' other nickname, perhaps: the World's Smallest Metropolis. What makes Aarhus especially charming, I soon learnt, are its contrasts. Aarhus is a city steeped in history but with a young, energetic population – it is home to no fewer than 40,000 students – a city with medieval courtyards hiding cutting-edge New Nordic restaurants, a city where you can cycle through a forest in the morning and go for a dip in the sea in the evening.
To start exploring Aarhus, head north from the station. You will find yourself on a pedestrian street that stretches for a kilometer and ends up in the shadow of the city's majestic cathedral. The street – known locally as Strøget (it sounds like "stroll", which is what most people do, unless they are scurrying out of the rain) – is home to a Scandinavian department store named Salling, as well as Danish brands such as fashion label Samsø ø Samsø and silversmith Georg Jensen. Look out, too, for the HAY store on Rosenkrantzgade, a temple of modern Danish design. If you are feeling peckish, drop in at the new Aarhus Central Food Hall, which offers a range of street food, (think: Thai curries, Vietnamese banh mi, and sushi).
Strøget slices straight through the center of the city. Look left at Sønder Allé and you should catch a glimpse of the Technicolor roof of the city's art museum, ARoS (more on that later). Look right and you will spot the harbor district – much of which is being redeveloped – and beyond that the sea. Aarhus lies on the east coast of the Jutland peninsula, and many years ago its dark, wine-colored waters were a graveyard for warring Vikings. In the basement of a branch of Nordea bank at St. Clements Torv, you can see a display of Viking artefacts unearthed when the site was excavated in the '60s. They include 1,000-year-old tools and pottery, plus a Viking skeleton.
Nearby is Aarhus Cathedral. Almost 100m tall, it is Denmark's largest cathedral and, as you walk around this medieval city, you will often catch sight of its spire peeking above the rooftops.
Pop inside to see restored fourteenth to sixteenth century frescoes. Opposite the cathedral, however, is an excellent example of Danish architect Hack Kampmann's work – the Aarhus
Theatre. Look out for the gargoyles on the facade of this impressive building, which dates back to 1900.
Heading west into Store Torv, you will pass the Royal Copenhagen concept store – an opportunity to admire the 241-year-old hand- painted porcelain dinnerware they produce. For contemporary ceramics and tableware, head to Illums Bolighus, in Lille Torv – a treasure trove of Scandinavian design and home furnishing. Opposite it is Magasin du Nord, another department store. Better still, head down Badstuegade, which takes you into the Latin Quarter, a cluster of cobbled streets packed with shops and cafés. This is the city's cosiest neighborhood – which in Denmark, where cosiness is practically an Olympic sport, makes it the city's best neighborhood.
On Badstuegade itself, head to Lertøj for contemporary ceramics. Or add to your vinyl collection at Badstuerock, now in its fifth decade. And don't miss Designer Zoo, which represents 100 Danish artisans, from jewelry designers to furniture makers. Look out for the miniature paper replicas of buildings and landscapes, made by Taiwanese industrial design student Li-Yu Lin. They are exquisite pieces of design, and you can see why LEGO snapped her up even before she had graduated.
From the Latin Quarter, head east towards the redeveloped harbor district known as Aarhus Ø. Its spectacular contemporary architecture that has sprung up on the site of a disused container terminal provides a striking counterpoint to the quaint medievalism of the Latin Quarter. The most eye-catching edifice is the Iceberg, designed by the Bjarke Ingels Group. A private residential building, it was completed in 2013 and won an International Architecture Award in 2016.
Further south is the city's new public library, DOKK1 (the name is a pun: pronounced "dock it", it is a nod to the building's waterfront location). Admire the quirky parking system – you
leave your car in a space, which automatically descends into the ground and come back up when you leave. Then head inside and marvel at the interior. If you are lucky, you will hear the Gong – a tubular bell that sounds whenever a baby is born in the city (apparently it rings at least three times a day).
Retrace your steps to the city center and head along Vestergade – passing Our Lady's Church, where you can enjoy a restorative break in one of the city's most beautiful spaces. Heading south you can find Møllestien, perhaps the prettiest street in Aarhus. Roses and hollyhocks hug pastel-colored, half-timbered houses built in the eighteenth century. Cobbled and quiet, this small street exudes charm. Around the corner, on Åboulevarden, is F-Høj – a spin-off of the Michelin-starred restaurant Frederikshøj. It serves a gourmet version of Denmark's famous open-face sandwich – smørrebrød.
To the west of the city lies Vesterbro. Though mainly residential, the neighborhood is home to one of the city's most unusual attractions. Den Gamle By – the Old City – is an open-air
museum dedicated to three eras of Danish history: the 1860s of Hans Christian Andersen, the industrializing 1920s, and the tie- dyed 1970s. It is worth a visit to see its 75 half-timbered
houses which were brought there from all corners of Denmark and reconstructed as a provincial market town.
Better still are the four climate-controlled greenhouses at the Botanical Gardens, which lie at the top of a nearby hill. Wander from the olive trees of the Mediterranean greenhouse into the
cacti and dates of the desert, and from the Spanish moss of the mountain greenhouse into the butterflies and banana trees of the tropics. The greenhouses were designed by architects CF Møller and won an International Architecture Award in 2016.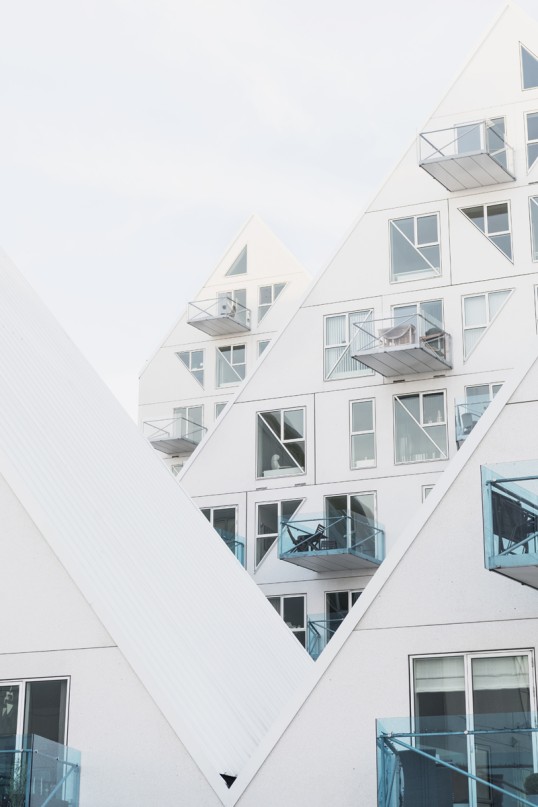 Head down the hill and sweep down onto Thorvaldsensgade but instead of continuing straight ahead, zigzag south till you reach Godsbanen – a highlight of any visit to Aarhus. It is a
collection of renovated industrial buildings on the grounds of a former freight yard, which was built in 1923 but closed in 2000. A decade later, the repurposed main building opened, followed by the annexes. Today they house a range of creative businesses such as designers and theatre companies, and around 200 people work in Godsbanen every day. It is fun to wander around this hub of creativity and see what's happening. Make sure you head outside
to see the eclectic range of materials used to make other workshops and creative spaces, including recycled shipping containers and yurts.
There's arresting architecture around the corner, too, at Sonnesgade 11. This eye-catching and asymmetrical mixed-use building was designed by award-winning local architects SLETH.
Its concrete facade has cracks that make it resemble marble, and it houses three floors of offices plus a restaurant on the ground floor. It is worth booking ahead to enjoy the seasonal gourmet food that is shuttled from the open kitchen (think: roasted wood pigeon, turbot soup and Danish oysters.) The head chef is Jesper Thomsen, who trained at Restaurant Frederikshøj. The wine comes from a branch of cool Copenhagen vintner Rosforth and Rosforth – located in the basement.You can find other splendid restaurants a stone's throw away, in the residential neighborhood of Frederiksbjerg. One of them is Restaurant Hærværk, whose menu changes daily, depending on the season and the whims of its suppliers. Its name translates to "vandalism", though there's nothing antisocial about what head chef Rune Lund Sørensen sends from the kitchen. Since Hærværk opened in 2014, he boasts to have served over a thousand different dishes – mostly using ingredients sourced from no further than 40 miles away. Thanks to its reasonable prices and relaxed vibe, Hærværk won a Bib Gourmand this year.It lies round the corner from Jægergårdgade, a vibrant street you could spend a whole morning exploring. You will find lots of independent shops here, like Nr.4, which sells a mix of Danish and Icelandic designs – look out for ceramicist Trine Bech Jakobsen's quirky egg cups. If you are thirsty, grab a beer at Mikkeller, the microbrewery founded in Copenhagen, or head to St. Pauls Apotek, a former pharmacy where mood lighting and champagne cocktails are the order of the day.
Just south of Jægergårdgade is Ingerslevs Boulevard – home to Denmark's biggest food market. It boasts some 60 stalls, including greengrocers, cheesemongers, organic butchers and fishmongers, and you can also pick up fresh flowers and honey from local beekeepers. Time your visit right, though, as the market is open only on Wednesdays and Saturdays until 2pm.
Head north from Jægergårdgade along Frederiks Allé and you will catch sight again of Your Rainbow Panorama – Olafur Eliasson's striking walkway above ARoS, the city's contemporary art museum. Don't head there yet, though. Pause first to explore the distinctive grey building on your right. It is Aarhus town hall, designed by the godfather of Danish modernism, Arne Jacobsen and it turns 75 in 2017. Clad in Norwegian marble, it is one of the city's most famous landmarks and a striking visual counterpoint to the cubist design of ARoS, a couple of hundred meters to your right.
Take your time to enjoy ARoS's permanent collection, which includes works by Frank Viola and Andy Warhol. Among the major attractions is Boy – Australian artist Ron Mueck's five-metre- tall sculpture of a crouching boy, whose down-dappled skin looks unnervingly real. ARoS also has an eclectic calendar of temporary exhibitions, with recent artists including Grayson Perry and Robert Mapplethorpe. As well as a food hall and eclectic gift shop, there's a spectacular spiral staircase, which provides access to all the galleries on the museum's 10 levels.
The indisputable highlight is Your Rainbow Panorama. Few views of the city are more enchanting than the one offered by Eliasson's rooftop walkway – 360 degrees of glass in every shade of the rainbow.
More than anything, though, it offers the footsore visitor a chance to retrace their journey through the city, to piece together its constituent parts from high above, and – in the warm glow of a modern Danish rainbow – to understand for themselves why they call it the City of Smiles.
Words James Clasper
Photography Benjamin Lund
Articles