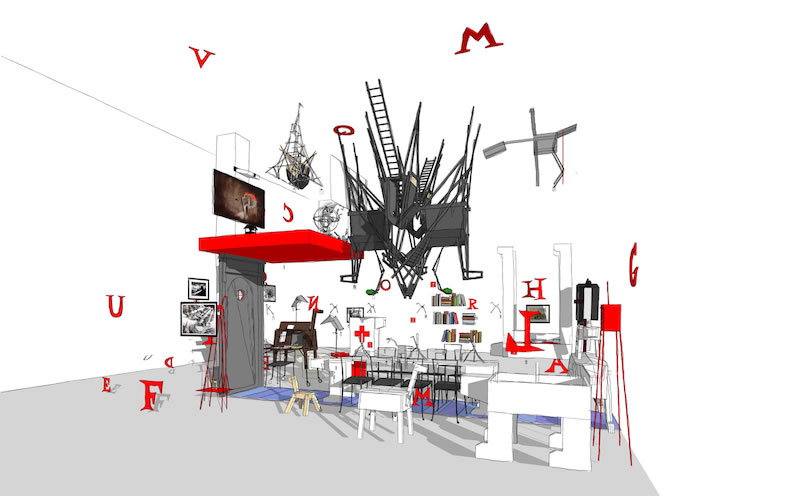 All eyes are set on Milan, as it welcomes back the Triennae International Exhibition after a twenty year interruption. From April through September, this extraordinary event will turn the city into a vibrating hub of events and exhibitions, on art, design, architecture, fashion and film. Launched in Monza in 1923, the festival first migrated to Milan in 1933: its historical venue of Palazzo dell'Arte has since become a landmark in the cultural life of the city. It hosts the permanent Triennale Design Museum as well as a number of temporary international exhibitions, a specialist library, a theatre and numerous activity spaces.
The title of this year's International Exhibition is 21st Century. Design after Design. With a packed program of over twenty exhibitions, staged across many key Milanese locations, it purports to promote the rich architectural heritage of the city: ex-Ansaldo, Hangar Bicocca, Fabbrica del Vapore, IULM, the campus of the Politecnico, Mudec Museum of Cultures and the National Museum of Science and Technology. A further exhibition will be held outside Milan, in the Villa Reale of Monza.
The event kicked off a few days before the opening week of Salone del Mobile, as always attracting tourists from every corner of the world. In the context of the XXI International exhibition, the very same prestigious Milanese interior design fair presents 'Stanze. Altre filosofie dell'abitare' ('Rooms. Other philosophies around living'), curated by Beppe Finessi. The exhibition looks at interior design through the eyes of 11 great practitioners, reckoning with the most meaningful and crucial aspects of contemporary society.
Salone del Mobile wishes to offer a platform for experimentation, business, innovation and culture. That's why it accepted the challenge issued by the Triennale International Exhibition: putting together an event that highlights the special task of interior design, and proposes new avenues for the future of home living. Nowadays, most of our lives take place indoors, which is why we trust interior designers to come up with colors and shapes to articulate and redefine those spaces and environments in which our day-to-day unfolds.
The 11 rooms bear different themes and feelings. Each of them experiments and adds new value to the notion of design, by encouraging us to reflect upon the different ways of living that are available to each of us.
Risonanze, (Resonances) by Andrea Anastasio, aims to offer a new shape to the group of polarizations that mark our domestic space: inside-outside; microcosm-macrocosm; isolation-relation; closed-open; dialogue-indifference; sanity-illness.
Circolare, circolare (Circulation) by Manolo De Giorgi looks at home living as a space of constant flux; stripes are juxtaposed to generate an environment that feels like a 'work in progress'.
Ursus by Duilio Forte offers punters the possibility to experience a brief living experience inside a zoomorphic shape. Inside, the space is inhabited by many objects, sculptures, books and images from the Scandinavian world, mythology and travel.
L'assenza nella presenza (Absence in presence) by Marta Laudani and Marco Romanelli analyses the value of 'absence' in the 'new living model'. In its inner spaces, time struggles caught in the dichotomy between showing and hiding, presence and absence, 'gym' and 'stage'.
La vie en rose by Claudio Lazzarini and Carl Pickering uses tinted glass panes ranging from pink to burgundy red to outline the perimeter of a minimal living cell, investigating the technical, aesthetic and ethical potential of new photovoltaic technologies.
D1 by Francesco Librizzi tells the story of the discovery of domestic space. 'Man's first room' represents the threshold separating nature and the home: once crossed, space ceases to be wild and becomes domestic. It hinges on the mythical fantasy of an 'original moment': when man stopped, struck by the beauty of a specific place, and chose to remain there, to make it his home.
Le mie prigioni (My prisons) by Alessandro Mendini encapsulates the feelings experienced by someone living in captivity. It is an introverted room, a locked perimeter, a mental space that's impossible to access – small, though enormous – in any case self-contained.
INTRO by Fabio Novembre is a room to dream in: built in leather, with incredible skill, and fully contained within a perfectly spherical pod, covered with mirrors on the outside. Sleep is the space-time threshold that every night brings us back to our original amniotic state, and in the morning forces us to be reborn, fully conscious, fully human.
Carlo Ratti Associati's studio presents Lift-Bit: the first interior design system that's connected to the net. The project consists of a comfortable, modular and adaptable chair, employing the technologies of the 'Internet of Things' to introduce a new living experience. The Lift-Bit prototype started from a combination of individual hexagonal stools. It is controlled remotely via an app, through which each stool can double or halve its height, reconfiguring space in potentially endless combinations.
La petite chambre by Umberto Riva reinvents Cabanon, a refuge built by LeCorbusier on the French Riviera in 1952, putting forth a discussion about the spaces that are essential to human living.
In prospettiva (in perspective) by Elisabetta Terragni, portrays a room as a microcosm of living and thinking, in which everything is slowly filtered and distilled. This room will never be inhabited, but bares its intimacy through absence and void.
The exhibition will close in September 2016, renewing the historical bond between Milan and innovation, as the capacity to inject the contemporary into art, through the constant cross-contamination of international inputs and inspirations.
Words – Marianna Masciandaro