Heritage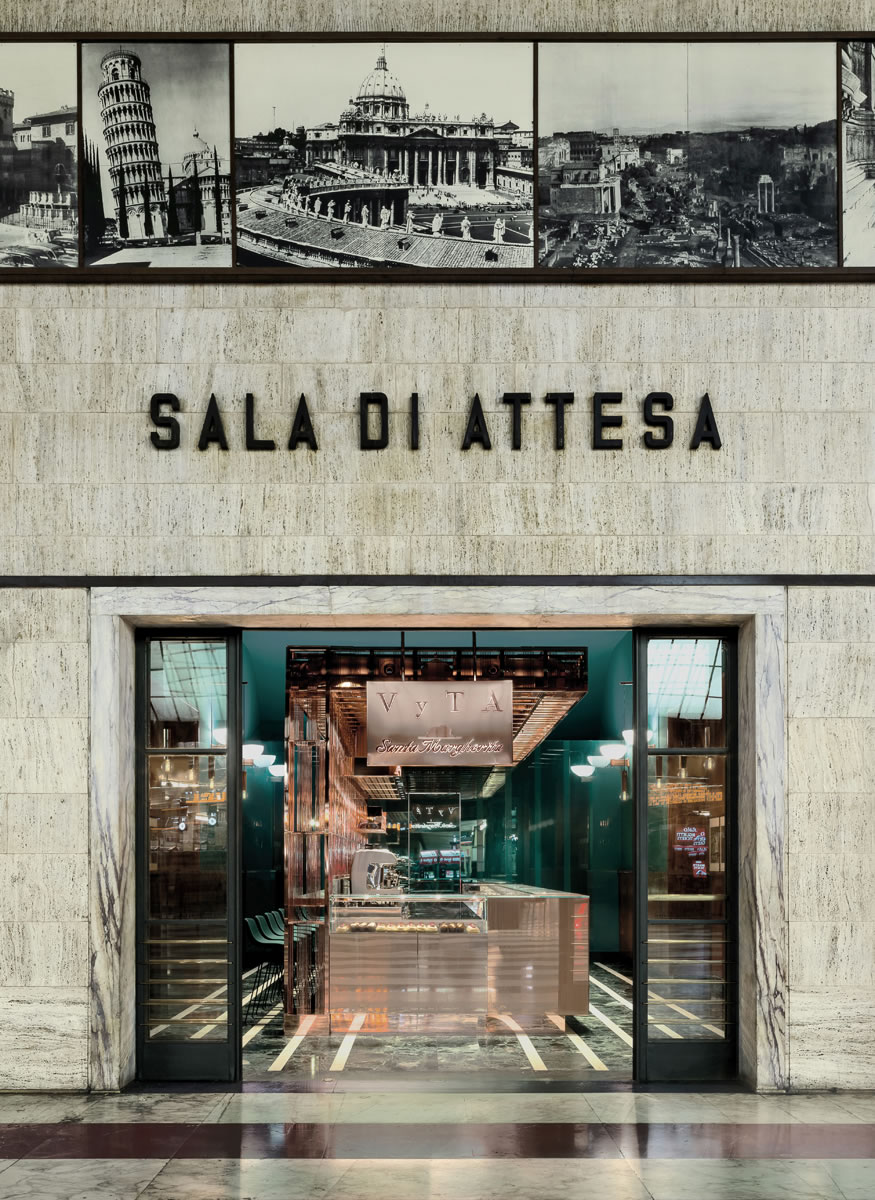 Heritage

Hits: 2451
VyTA, from Stations to the World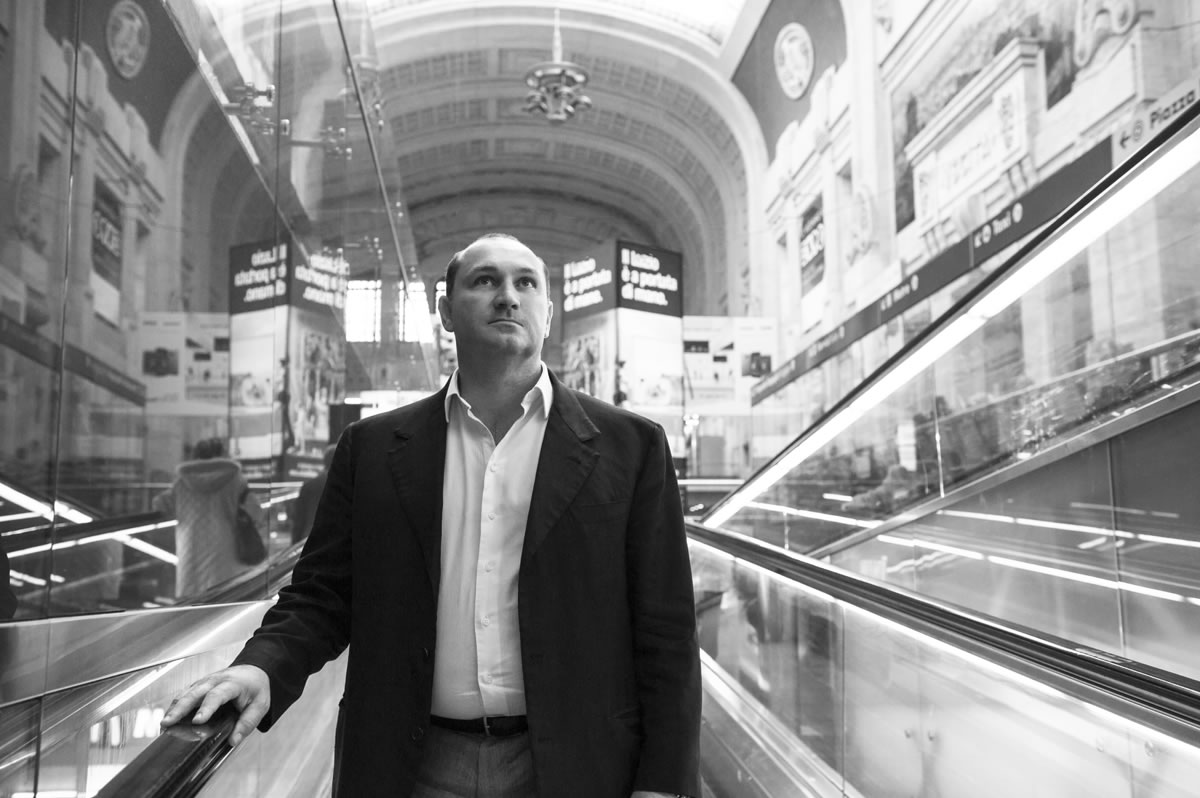 After conquering the railway stations, the VyTA boulangeries prepare to arrive in Italian and European cities. Nicolò Marzotto, head of the VyTA Santa Margherita project, tells us all about the brand's future.
Introducing VyTA Santa Margherita from its March 2016 inauguration in Florence is not a mistake but instead rather useful, because the event marks the turning point and revolution of the basic brand concept in all respects, a kind of "VyTA 2.0" in the words of Marzotto himself, which gives the idea of a project that has all the ambition (and potential) to become an all-round restaurant chain, capable of operating both in Italy and abroad. The new Florentine establishment integrates period features with new ones, all made out of quality materials such as copper, glass and marble as to pay homage to the decorative style that once characterized the place, returning visibility to the paneling, hanging antique photos and wooden beams as well as a glass ceiling, while a copper rose L crosses the space combining functionality and design. The original theatrical elegance of the setting has been renewed, in line with its new role at the railway junction, while still retaining its historical identity.
Starting out in 2008 with the intention of offering travelers a refreshment area that combined "beauty and taste" while remaining accessible to everyone, VyTA now has a series of successful boulangeries, highly recognizable with their different and carefully studied formulas, in the main Italian train stations (Roma Termini, Milano Centrale, Torino Porta Nuova, Napoli Centrale, Venezia Santa Lucia, Bologna Centrale and Florence Santa Maria Novella as mentioned above). Villa Borghese in Rome was the first prototype in a location that wasn't a train stations, which opened in December 2015 and paved the way for the development of a business model that, according to Marzotto, focuses on three main types of restaurants; those in Italian train stations, those in European train stations, and finally, independent restaurants ones at tourist sites in major Italian and European cities. "I thought that offering a good glass of wine at the station would be a nice way to share the excellent wine produced by Santa Margherita Gruppo Vinicolo," said Marzotto with conviction, sharing with us in this interview how and why VyTA was born, the hopes of the entrepreneur who believes in the "beautiful and good" products made in Italy, as well as the future ambitions of the brand.
How did the VyTA project come about and what made you choose train stations?
VyTA was designed to meet the needs of a new type of traveler, more attentive to quality of life. We wanted to change the offer available at stations, to provide sustainable food and wine choices, attention to detail and care for passengers that did not previously exist. Just think how much the concept of travel has changed in recent years, for both business and pleasure. We tried to adapt to the new course the Italian railway is undertaking, transforming stations into meeting points and attracting new customers, no longer exlusively composed of travelers. VyTA was our response to this demand, with a formula that combines beauty and taste.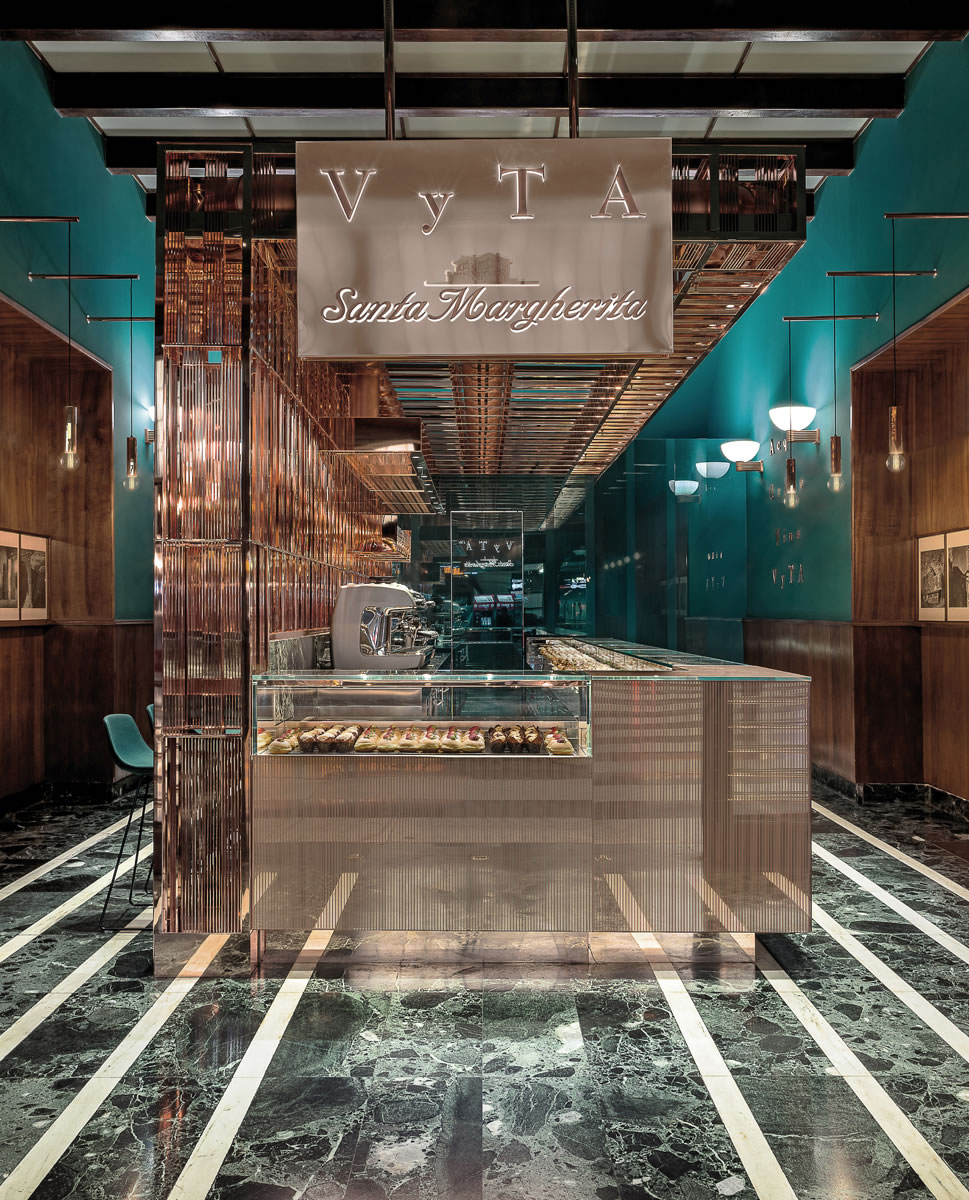 One example is the VyTA in the Firenze Santa Maria Novella station. What does it mean to design a contemporary space in historical surroundings such as these?

Florence was a real turning point for us. There, in fact, the basic concept was revolutionized to meet different specifications and was adapted to the special location in the Santa Maria Novella station. Protecting cultural heritage was a significant challenge for our architect (Daniela Colli); the idea was to offer customers a unique experience that best shared the identity of the place and at the same time provide a completely different way of living the station, opening up a dialogue with one of the last examples of Italian monumental architecture, which dates back to the '30s.
Italy has changed a lot since start of the VyTA project seven years ago. How did the project evolve in this respect?
I think that VyTA made the most of changes to certain habits of Italians, who started looking for a dose of authenticity in response to the unbridled hedonism that characterized similar projects over past decades. Our boulangeries offer true flavors and fresh products, genuine and rich in taste, without superfluous conceptual elements. Our desire is to unite the elegance and functionality of the location with the best Italian cuisine in terms of authenticity, freshness and sustainability, aiming for the perfect pairing of food and wine. This means serving a good glass of Italian wine in a beautiful setting that is not too far removed from its location. This essentially represents Italy: a higher quality offer than what could previously be found at stations, but accessible nevertheless. The pleasure of being in a beautiful place and enjoying something without feeling the burden.
How do you choose VyTA products?
VyTA products are selected from across Italy and you will find every region of the country in each of our restaurants. A certain percentage is dedicated to local specialities, but in Milan you will find products from Naples, and in Naples products from Milan: the idea was to offer a "taste" of Italy, especially to international travelers. There is no specific region of origin, but there is definitely a focus on the city where the boulangerie is located. I am always impressed by the reputation the project has earned over the years, with different types of people visiting the stations from various parts of Italy. It has become a familiar place, immediately recognizable, that people searched for when traveling but couldn't find before.
After conquering the major railway stations, you are looking to expand in city centers, starting from Villa Borghese in Rome. What other locations are you considering in Italy and abroad?
Becoming a full-fledged restaurant brand and "leaving" the stations is VyTA's next target, and the Villa Borghese restaurant was the first step in this direction. The next location will be overseas and outside the station circuit. In the early months of 2017 we will start work for the upcoming opening of the first VyTA restaurant in London, more precisely in Covent Garden. It will be the first VyTA outside of Italy and will be the litmus test for the future of the project by Santa Margherita Gruppo Vinicolo.
What place does the VyTA project have in the Santa Margherita Gruppo Vinicolo corporate structure?
We are extremely proud of our wine production and VyTA is definitely a great opportunity to share the wine produced by the Santa Margherita Gruppo Vinicolo Estates and letting it be appreciated by those who have never had the chance to taste it. I wanted our wines to reach an even wider public and to share the challenges Santa Margherita Gruppo Vinicolo has overcome in order to serve quality products. We thought that offering a glass of wine in all stations would be a nice way to do this.
What are your strategic objectives for the next ten years?
We are pursuing various development lines and will definitely have to see which ones to implement. Without a doubt, the first is to develop a station network overseas, in France, Germany, the UK and the Netherlands. The second instead concerns the opening of additional VyTA restaurants outside stations in other Italian cities, including Milan, Florence and Naples. Finally, the third strategy is to win over other European cities with the same restaurants, and London is the first step in this direction. I think back to how Santa Margherita has contributed to making Pinot Grigio, Prosecco and Italian sparkling wines some of the most well known and consumed in the world, and I believe we can make VyTA another outstanding Italian trademark abroad.
The new VyTA café, located in Florence, in the former waiting room of the Santa Maria Novella train station, designed by Architect Daniela Colli. Its defining features are the fine materials – green marbles, copper, glass, antique boiseries and wood beamed ceiling.
Words Silvia Schirinzi
Photography Matteo Piazza