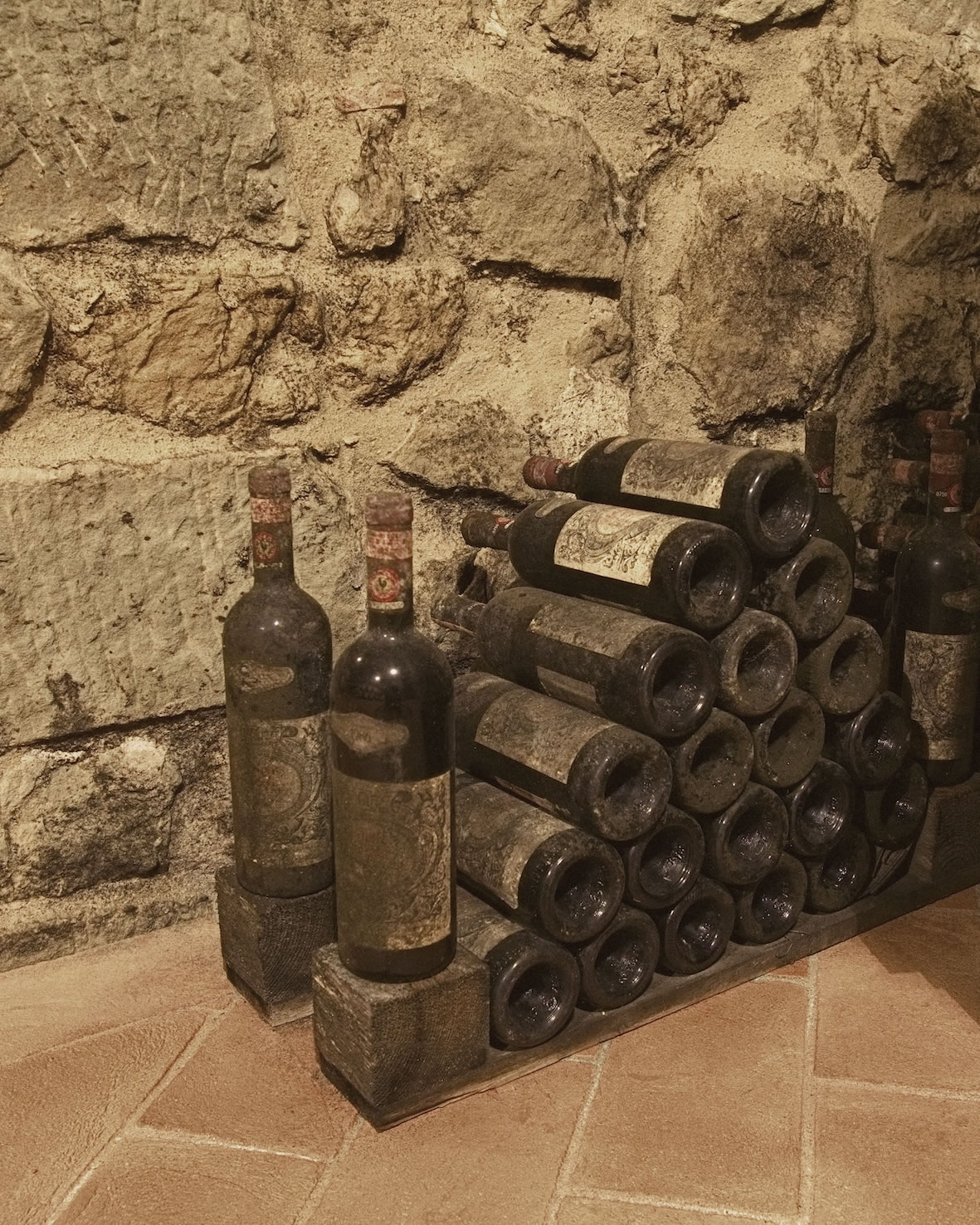 Words – Mattia Carzaniga
Photography – Diego Mayon
Chianti Classico Lamole di Lamole is born from the vineyards that climb up Tuscany's rolling hills and is made special by a unique combination of nature and expertise. Visitors travel from all corners of the world to discover the history of this splendid wine estate.
The Chianti region has always been is defined as follows: "From Spedaluzzo to Greve, enclosing Panzano and all of the Podesteria di Radda, which is made of three thirds, Radda, Gajole and Castellina, coming right up against the boarder with Siena." Thus wrote the Archduke Cosimo III de' Medici in 1716 in his Dichiarazione dei confini delle quattro regioni, establishing the first official definition of the Chianti district: as a region, but also as an area destined to become Tuscany's most celebrated wine producer. On the road connecting Greve and Panzano we find Lamole, one of Chianti's beating hearts. Lamole is Chianti Classico at its best, so much that it is known as Lamole di Lamole. The wine gives this land its identity, and it is considered the gem in the crown of Santa Margherita's Tuscan wine estates.
The village of Lamole features a central church and square overlooking the vineyards that stretch over the surrounding sloping hills. Today, it is home to 86 inhabitants, both natives and international artists that came here seeking the legendary charms of Chiantishire. Its history, however, is as ancient as its vineyards. The first written testimony of Chianti, the wine as well as Chianti, the district, dates back to 1250. The gallo nero, or the black cockerel, that became the symbol of the region as illustrated by Vasari three centuries later in Florence's Palazzo Vecchio, also made its first appearance in 1250. Lamole is a small island on the path between two rival cities, in the thirteenth century it saw the erection of a watchtower castle built to survey the road, a testament to the age-old hostility between Florence and Siena. The castle stands high on the 'lamule' that give the village its name, thin strips of land that are the result of geological erosion. The stone that results from this erosion, and is typical of the region, plays a role in imparting a certain character to the wine, even today. The Lamole di Lamole winery stretches over 173 hectares, 57 of which are vineyards and 4 are olive groves. The singularity in Chianti Classico can be discerned through observation: "These are not 'pretty' vines," jokes Andrea Daldin, who has worked as an oenologist with Lamole di Lamole for twenty years. It is true, they are not 'pretty': the plants cling to the hillside pushing their way through the rocky terrain, reaching for the sun. Lamole di Lamole's Chianti Classico is the product of this combination: "the altitude, between 400 and 650 meters, is the first specific element that defines our territory," Daldin explains. "Then comes the climate: the average temperatures here never exceed 33°C. From May to the second half of September we have thermal inversion; between September and vintage time we have diurnal temperature variations (this is the most delicate phase as it coincides with the plants' veraison stage, during which the aromas fully develop). Lastly, there is the terrain, which is unique: the foundation is made up of sandstone, with splits of Galestro clay that gradually break it up until it becomes sand." All this affects the flavor of the wine. "It is intense, deep. As it ages, Chianti Classico develops spicy, balsamic notes."
The rest of the story lies in its history. In the seventeenth century the village was home to one thousand people, and wine exports began in earnest. A century later, in 1716, it became the first official wine region in the world. Chianti began to cross borders, in England it boomed. Gradually the wine was perfected and underwent transformations. At first, it was only 100% Sangiovese, but by the nineteenth century the Baron Ricasoli decreed: 80% Sangiovese and 20% a mix of other varieties. Sangiovese, however remains the chief and principal ingredient, giving Chianti those properties that make it unique. It is a grape that, more than any other, changes and acquires complexity depending on the soil. Only certain areas of Tuscany are able to bring out those sweet flowery and fruity notes that are essential to this wine. By the turn of the twentieth century, the demand for Chianti expanded uncontrollably, making it necessary to create a consortium to protect the wine's identity. In 1924, there were 32 licensed producers and eight years later the denomination 'Classico' was created to distinguish it from the largely unregulated wine production of the neighboring areas. This history helps us understand the Lamole di Lamole we drink today, the direct result of this long process. "In 2004 we began to rediscover these typical benchland cultivars," our wine expert explains. "the Campolungo, that gives its name to our Chianti Classico Gran Selezione, is the biggest, with ten hectares. In 2009, we decided to renew and restore the terraces and we were able to accomplish this by understanding the geological nature of the terrain, the way in which plants need to reach deep into the ground, the importance of intense sun exposure: just as it has been since the beginning." Today, Lamole di Lamole is staffed by ten people who work in the vineyards and in the cellar. Among them we find faces that have made the company's history: the head-farmer has worked here since 1978. "They make the wine, not us oenologists. Social entrepreneurship and the promotion of a local cultural heritage is achieved by giving work to people who have represented the soul of this land for decades and by rediscovering age-old farming methods and local cultivars," says Daldin. "The estate gives work to young locals: they feel a personal connection and responsibility toward the wine and the place that produces it."

'Organic' here is not just a buzzword, but the result of a bond with this valley. "We will be certified organic next year, but it is not just a fancy word we're adding to our label because it is trendy to do so. Organic farming is a means and not an end, it is a way of working: most of all, it means 'do less' or, rather, let nature do the work. Advanced technology is important: for many years now we have been carrying out a study on induced crop resistance, the improvement of a plant's capacity to protect itself by developing those antioxidants which will make the use of copper and zinc unnecessary. Sustainability, however, is not a recent discovery here: Lamole di Lamole has never lost sight of environmental welfare, it has always aimed at working with nature rather than against it. That is why production volume has always been contained – we are talking 230,000 Chianti Classico bottles produced each year – it is our philosophy: take from the land what it can give you, and always give something in return."
Today Lamole di Lamole is an internationally recognized area of wine excellence. "And to think several scholars and experts of Tuscan wine have long sustained that the clone of the Sangiovese grosso of Montalcino derives from Lamole di Lamole." Today there is a more open dialogue with guides and specialized media and consumers are more knowledgeable and aware. "When the Gambero Rosso Wine Guide awards you three glasses for your yearly vintage, and not just your special reserve bottles, it is proof enough that your product is good. Not everyone can say the same." Lamole di Lamole ages in oak barrels, under the medieval vaults of the cellar, preserved as it has always been. "Our wines do very little barrique, fortunately that particular trend has come to pass and we were proved right in the end: this too, is what we mean by working with nature, let the wine speak for itself."
Today, Lamole di Lamole also means hospitality and a direct relationship with visitors to the area. The wine estate is open for tours and wine-tasting sessions. "To understand Lamole di Lamole you have to start from the vineyards, make the entire journey, from the grape to the wineglass," in the words of hospitality manager Sebastiano Pedani. He grew up not far from here and has worked for years on the estate, you can tell that for him this journey is, first and foremost, a personal one. "Until you experience what it feels like to walk through a vineyard, you cannot understand." Today the winery attracts Italian and international visitors alike, the same who seek out Lamole di Lamole wine everywhere in the world. "The Americans make up by far the largest contingent, they are also the most open-minded and curious, Northern Europe is a novelty, together with markets such as China, Germany and Japan. And there's the French, of course, but only the ones who are not exceedingly patriotic," he jokes. The tour moves from the historic vineyard to the cellars, and then through to the Vin Santo cellar (Vin Santo, the Tuscan traditional dessert wine is another of the company's signature products), and finally ends in the Lamole di Lamole Salotto, as is it commonly referred to, where you can sample the wines and discover local food. "Tour operators are constantly looking for new ways of bringing tourists to truly experience local culture. In the warmer months, from April to October, which are also the most important months in wine making, we host two tours each day. The young, in particular, are much more aware. It is uncomfortable for us Italians to admit it, but in the last 15-20 years this country had lost its wine culture. Today's new generations are rediscovering the importance of locally sourced products and they make more informed choices. Effective communication, in this industry, is all about teaching people how to drink better, and responsibly." While we chat, a Spanish couple climbs out of a car, like in a movie about a picturesque holiday under the Tuscan sun. "Can we find out more about your estate and your wines?" And just like that, a perfect example of what Lamole di Lamole is all about, an unexpected detour on an Italian holiday, a chance to take home one more precious memory.
From the road you can admire the hills, the rolling vineyards and the faces of Lamole's residents as they go about their daily business, the workmen pruning off the dry branches and the lady who lives in the main square, practically a local institution. Legend has it that the best answer to the question "What makes this wine so special?" was given by one of Lamole's oldest residents: "Che dire: l'è bòno!" (What is there to say? It's good!)